Wetting and Dispersing Agent for Stabilizing Pigments and Fillers with Polar Surfaces
Borchi® Gen 0650 is an anionic, APEO- and VOC-free wetting and dispersing agent for water- and solvent-based coating systems. This dispersant is highly effective in stabilizing pigments and fillers with very polar surfaces. These include titanium dioxide (TiO2), iron oxide, and hydrophilic organic pigments.
Benefits of Dispersing Agents for Pigments and Fillers with Polar Surfaces
Inorganic pigment surfaces are high in polarity. However, pigments that have very polar surfaces are difficult to wet without assistance from additives. Wetting and dispersing agents are required to effectively wet, disperse, and stabilize these pigments.
Borchi® Gen 0650 provides low viscosity dispersions to stabilize TiO2, iron oxide, and hydrophilic organic pigments. It is particularly effective in enhancing colors of tinted white and clear alkyd-based coatings.
Applications
Borchi® Gen 0650 is ideal for decorative and protective and marine and decorative coatings, as well as printing inks.
In adhesive formulations that utilize DIDP plasticizers, Borchi® Gen 0650 effectively disperses TiO2 pigments.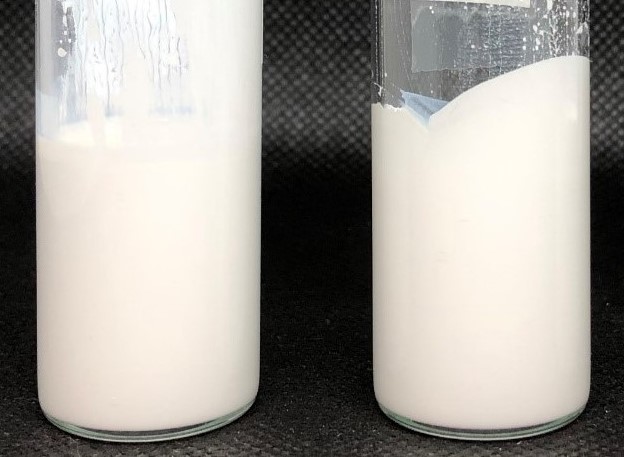 Control                                 Borchi® Gen 0650
Borchi® Gen 0650 shows better stability than the control dispersant in an adhesive solution with 70 % TiO2 concentration after two weeks at 50 °C
         Control                     Borchi® Gen 0650
Better white color development is achieved with Borchi® Gen 0650 dispersant in a TiO2 adhesive formulation compared to the control dispersant
Physical Characteristics

Appearance

 

High-viscous, colorless to yellow liquid

 

Non-volatile content

 

100

 

%

 

pH

 

6 – 7.5

 (aqueous solution 10 %)

 

Density

 

1.02 – 1.06 g/cm

3

 

Viscosity

 

Max. 3,000 

mPa.s

 

Solvent(s)

 

NA

 

Features

Specifically designed for stabilizing fillers and pigments with polar surfaces like titanium dioxide, iron oxides and hydrophilic organic pigments
May significantly improve the color of tinted white and clear alkyd-based coatings
Low viscosity dispersions

Applications

Coatings

Protective and Marine
Decorative

Printing inks
Adhesives and sealants

Dosage

Recommended amounts of Borchi® Gen 0650 in % (supply form) based on pigment content:

Titanium dioxide: 1 – 4 %
Inorganic pigments: 5 – 15 %
Organic pigments: 10 – 30 %

The amount depends on the particle size and surface area of the pigment. The exact dosage should be experimentally determined.

Storage

Protect from the effects of weather and store at temperatures between 5 and 30 °C. Slight turbidity may occur during storage but this does not affect the performance of the product. Once opened, containers should be resealed immediately after each removal of the product.

Safety

Please refer to our safety data sheet for information relating to product safety.
Registration :
For chemical inventory status, please review section 15 of the current SDS.
Click here to access the SDS portal.
For additional regulatory information, please contact [email protected].
Wetting and Dispersing Products